#NEWS
.....Dont know if anyone knows yet or not... but... i just got word from a little birdie(Disney Upper Management) that The Lone Ranger Premiere will be June 22nd at Disneyland California Adventure in the Hyperion Theatre with a Red Carpet on Buena Vista Street
#News
Thanks for the news man. -
RickChavez
2185.3 #30 7:34PM
aaaww man, that's the day I leave the parks. -
rdaann
273.9 #792 7:38PM
How exciting! Hope to be there! -
bcarter
44.8 #3860 8:28PM
When u say hope to be there.... I hope you mean as a spectator... Lol... Tix are PRICEY!!!!! -
ColtonsDaddy
19.0 #5183 8:42PM
Yet another thing to make me say, gotta move to SoCal! Hope everyone fortunate enough to be there has a magical time! -
Duchess73
293.9 #645 8:42PM
#NEWS
on the Club 33 remodel. Disney has sent out the bid request to it's preferred contractors. The construction contract schedule reads, September 4, 2013 thru July 2014. This doesn't mean the Club will be closed for the entire duration of the project. Overall closer of the Club is likely to be announced early summer. Info provided from a Club 33 member i know.
I wonder what they're changing! I can't imagine it getting any better! ...at least from how I imagine it to be! :) -
DiamondInTheRough
291.4 #660 6:44PM
I hope it is not closed throughout Christmas, that is always a popular time to go. -
secretagentangel
669.3 #154 7:04PM
I wish I could see it before the re model....super sad face. When you wish upon a star, right! -
BriarBeauty
60.9 #3561 7:57PM
#NEWS
There will be a new Christmas edition World of Color premiering in November. In addition, there are Christmas parties that are being talked about that would force regular guests out of DL and into DCA similar to the Halloween parties. Haven't heard this officially from Disney internally, but pretty reliable rumor.
Oh wow! I'm excited about the Christmas WOC show! It'll be interesting to hear more about these parties.....not sure if I'm as excited about this news..... -
Duchess_SMK
3273.2 #11 1:23PM
Yeah... The Halloween parties tend to be a little rich for my blood, but I am a huuuuge Christmas fan so hopefully if this comes true then they will offer enough to make them worth it. -
bcarter
44.8 #3860 1:42PM
that would be awesome -
gonzofam
119.5 #2747 1:26PM
Not sure if this is stirring the pot but I hope that this is not the way they are going to do tix to CP this year since it was so amazingly popular every single night. One thing though, just like with Halloween, they still leave other nights free to enjoy the decorations and all so you don't have to go to the party. -
secretagentangel
669.3 #154 7:22PM
sorry, Candlelight Processional. I don't know if that is a paid event at WDW now, I hope not because I think everyone should be able to see it. -
secretagentangel
669.3 #154 7:34PM
As far as I know it isn't, just the party. -
Lelundrial
341.0 #427 7:49PM
I'm excited!! I absolutely loved doing Mickeys Magical Christmas in WDW!! -
mrstrmiller
51.3 #3727 7:36PM
#NEWS- Information about the Monsterous Summer 24 hour event: Friday, May 24 6am- Saturday May 25 6am in both Disneyland Park and Disney California Adventure Park.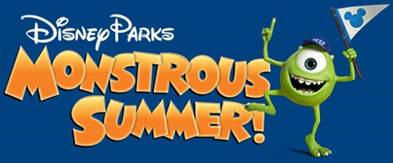 More...
Chicken and waffles, frittatas, mac & cheese pizza and banana fosters French toast?!? I'll have plenty to keep me awake. -
Jewelz
440.8 #281 5:22PM
Macn cheese pizza?! What?! Where?! -
missariel33
105.1 #2969 5:40PM
Just saw....omg I would go just for that -
missariel33
105.1 #2969 5:42PM
Thank you for always giving us the 411 Sir! -
Duchess_SMK
3273.2 #11 8:39AM
Can't wait to see pictures!! Especially all the food! Thanks for keeping us all informed! -
annamichelle
176.7 #1906 12:57PM
My prayers have been answered!!!! Mark your calendar kids because SWING DANCING WILL RETURN TO THE ROYAL THEATRE ON JUNE 15!!!!!! I'm sooooooooo freaking excited!!!! Here's a link to the article http://tinyurl.com/axucxdu and YES, I will be having a meet up!!!!!!! TY 🍓😘
Nice to see they are bringing this back. I'm gonna throw a sword in the moat in honor of this. -
vincentchase
640.6 #169 10:33AM
I can hear "In The Mood" already... :D -
JRDrummer_CM
789.6 #117 12:22PM
I will be there 💃💃💃💃💃 -
Sonja
5728.5 #3 4:52PM
Awesome! I just need a partner! My husband hates to dance lol -
BriarBeauty
60.9 #3561 8:31PM
#News
- Starting on June 14, the Big Thunder Ranch Jamboree in Frontierland will introduce "Woody's All-American Roundup". During this celebration, join Woody and Jessie, along with Mickey and his friends as they put on a patriotic celebration of the Old West. Also, Billy Hill and the Hillbillies will debut their new show "Red, White, and Bluegrass!" along with the dancing and guitarist
More...
My family and I will be there the 17. Might have to check it out -
babylynn
52.3 #3698 2:00AM
Thanks for the info! -
hardingk
3.0 #32591 7:04PM
Disneyland Grad Nite Info: We are compiling all the info you need for Grad Nite on one post, if you see anything missing let me know in the comments, thanks!
Dates May 10, 16, 17, 18, 22, 24, 29, 31 -- June 5, 6, 12, 14, 19, 20, 21
You can arrive at 9AM and stay until 3AM - Park Hopping is permitted
Private Grad Nite party in DCA with the Mad T More...
For the 24 hour event- all of DCA will be closed (with the exception of Hollywood Land,, Buena Vista Street, Paradise Pier and Condor Flats) from the hours of 11pm-3am. Only those with a wristband will be allowed to enter these lands. After 3am, these areas will open up again for all guests. -
BaseballMickey_CM
2841.4 #15 5:17PM
Not that this is any better but actually only Paradise Pier, Carsland and Tower of Terror will be closed :) so you can still go on Soarin over California and a few other attractions! :) -
VKaelin55
0.0 #98650 8:30PM
eww... we're there for two of them! Oh well, better than being at home! -
rdaann
273.9 #792 5:40PM
Its actually not that bad. I've worked many Grad Nites over the last few years and have never had a problem. With this format of them being in the park during the day and then after closing reduces the chance of any problems. I was even at the park last night as a guest and didn't feel any difference until we were leaving -
BaseballMickey_CM
2841.4 #15 5:43PM
I was in the park last night too and didn't notice any difference either. -
PrincessAuroraMomma
392.9 #340 6:03PM
Is it really, really crowded on these days? We'll be there with two small kids for two of these days. Any tips or areas to avoid? -
MsTink
3.1 #24709 10:05AM
So is disney not ushering people out of CA Adventure at closing time?......The way the description reads it looks like the public can stay in the park with the exemption of mad tea and WOC show. -
georgieporgie
116.1 #2796 5:08PM
#NEWS
#LIMITEDTIMEMAGIC
(from the AP Facebook): Hear stories about animation and learn how to draw some classic Disney characters with iconic Disney Animator Eric Goldberg on Friday, May 17 at the Animation Academy – all part of Limited Time Annual Passholder Magic! Event Times: 3:00 p.m., 4:00 p.m., 5:00 p.m. & 6:00 p.m. – Each event presentation will last approximately 45 minutes. Registr
More...
Dang, beat me to it! I was just checking to see if anyone had posted, sounds like fun! And does not conflict with MW reunion ride take over! -
sleepyhead
368.3 #375 1:52PM
Another event not for working folks. -
Winnie111286
288.8 #675 7:58PM
#News
- The "Jedi Training Academy" will not be shown this week (May 6-10) due to a refurbishment to the Tomorrowland Terrace Stage. (Darth Vader needs a vacation...)
But good news! Troubadour Tavern in Fantasyland will re-open on May 25, after being closed with the Fantasyland Theater, to coincide with the premiere of "Mickey and the Magical Map".
I wonder if they will have a revamped menu -
Dave
8637.7 #2 2:24PM
That would be nice! -
ShariRenee
1505.7 #51 10:36AM
I'm hoping for nachos and milkshakes -
ScubaSteve028
808.6 #114 11:00PM
I'm sure you are Bevis -
Dave
8637.7 #2 11:09PM
So I guess that means revenge of the sixth? -
Mel423
12.5 #6132 3:00PM
Never ate at Troubador Cafe. Will have to try it. -
Winnie111286
288.8 #675 1:10PM
Thanks for the update! -
karidaluv
33.1 #4242 1:55PM
#News
- "Indiana Jones and the Forbidden Eye" will be closed this Tuesday and Wednesday (May 7-8) for a short refurbishment.
Wasn't it JUST refurbished? -
cesium55
529.7 #216 6:47PM
That's what I thought! We went in November and it was down for a few months for referb, I think. -
Belleslibrary
230.0 #1241 7:33AM
Indy is always having problems, I think its just the nature of the ride -
lohofosho
279.3 #734 12:45PM
We got stuck on Indy yesterday, 18th. Had to switch cars when one side broke down. They still need to work on poor Indy. -
Winnie111286
288.8 #675 11:56AM
Space just opened from the dosh closure!!!!!
I'm in line now, if your in the park come now the line is short -
SplashMtn_Fan
487.2 #245 6:49PM
We were able to ride this friday and it was a great way to close out our week! BTW, it was nice meeting you and your family :) -
DisneyDawn
415.5 #310 5:59PM
#News- Starting Sunday, May 5, the "Glow with the Show" ear hats will now be incorporated for the "Magical" fireworks. Also, there will be special viewing areas on Main Street reserved for those wearing the ear hats on the dates of May 5, 10, 11, 12, 17, 18, and 19 (all viewing areas are at a first-come, first-serve basis).
This was great when they did this around Christmas. We were able to walk in about 15 mins before the show and had great viewing right by the water for Fantasmic. Should be equally good for the fireworks. -
DLKenCA
67.6 #3451 9:19PM
Hi Kevin. Is there still anywhere in the parks to get a free pair of ears with a minimum purchase. Hope to see you today. -
sr citizen space ranger
48.3 #3786 8:26AM
Magical returns tomorrow with Dumbo!!
I do love dumbo, but I'll miss what I refer to as, "the Julie Andrews' fireworks... -
evilqueensmistress
279.4 #732 2:00PM
Am I the only one wishing they would come up with new fireworks? -
TrampsLady
245.6 #1048 6:26AM
The Pixar Parade will feature a new Monster's U Float with a cheer leading squad, Squishy, Terry&Terri, Art, and Roz. The CDAs will also be returning. More details to follow.
When will this float be joining the parade? -
Winnie111286
288.8 #675 12:10PM
That's so cool, can't wait to see it! Thanks admin for the great insight! -
Red_Trolley_Sundae
6.0 #9096 9:34AM
Can't wait to see pics -
fab5
10.6 #6564 6:30AM
#News
- The Jungle Cruise will be closed from Monday 4/29 through Thursday 5/2 for a scheduled refurbishment. Also, the New Orleans Square/Frontierland Train Station will be closed from Monday 4/29 through Friday 5/24. During this time, the train will not stop at this station and will continue onto the ToonTown station.
Thanks for the info! Rats about the train. -
meridafan
1035.3 #83 7:09AM
I agree! Wr always take it from toontown to NOS... boo -
missariel33
105.1 #2969 11:38AM
Oh I'm so sad that New Oleans station will be closed when we are there :( it's tradition to grab beniets and hop on the train...guess we will have to get them and run to another station lol -
CuriousAsAlice7
29.9 #4394 11:49AM
Now that's a nice long stretch! -
snappy
272.6 #804 3:07PM
My favorite station :) -
Drew_Mouse
11.9 #6255 2:00AM