#NEWS
There will be a new Christmas edition World of Color premiering in November. In addition, there are Christmas parties that are being talked about that would force regular guests out of DL and into DCA similar to the Halloween parties. Haven't heard this officially from Disney internally, but pretty reliable rumor.
Oh wow! I'm excited about the Christmas WOC show! It'll be interesting to hear more about these parties.....not sure if I'm as excited about this news..... -
Duchess_SMK
3269.2 #11 1:23PM
Yeah... The Halloween parties tend to be a little rich for my blood, but I am a huuuuge Christmas fan so hopefully if this comes true then they will offer enough to make them worth it. -
bcarter
35.4 #4180 1:42PM
that would be awesome -
gonzofam
119.5 #2747 1:26PM
So the xmas parties are similar to the ticketed one they have at WDW? I am intrigued. Will be attending xmas parties on both coasts this year if that happens. -
Lelundrial
341.0 #427 1:39PM
That's what it sounds like. They have been talking about doing that for a couple of years, but needed to perfect the system with the Halloween parties before they brought in the Christmas ones. -
bcarter
35.4 #4180 1:43PM
Sounds great to have a whole new seasonal show. I love WOC and can't wait to see what they come up with. -
Sarafina
398.6 #335 1:46PM
#NEWS- Information about the Monsterous Summer 24 hour event: Friday, May 24 6am- Saturday May 25 6am in both Disneyland Park and Disney California Adventure Park.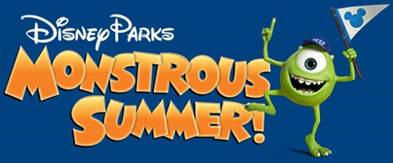 More...
Chicken and waffles, frittatas, mac & cheese pizza and banana fosters French toast?!? I'll have plenty to keep me awake. -
Jewelz
440.8 #281 5:22PM
Macn cheese pizza?! What?! Where?! -
missariel33
104.7 #2978 5:40PM
Just saw....omg I would go just for that -
missariel33
104.7 #2978 5:42PM
Thank you for always giving us the 411 Sir! -
Duchess_SMK
3269.2 #11 8:39AM
Can't wait to see pictures!! Especially all the food! Thanks for keeping us all informed! -
annamichelle
176.7 #1906 12:57PM
My prayers have been answered!!!! Mark your calendar kids because SWING DANCING WILL RETURN TO THE ROYAL THEATRE ON JUNE 15!!!!!! I'm sooooooooo freaking excited!!!! Here's a link to the article http://tinyurl.com/axucxdu and YES, I will be having a meet up!!!!!!! TY 🍓😘
Nice to see they are bringing this back. I'm gonna throw a sword in the moat in honor of this. -
vincentchase
640.6 #169 10:33AM
I can hear "In The Mood" already... :D -
JRDrummer_CM
789.4 #117 12:22PM
I know my request comes early, but since I'll be there a week or so too early, I hope some video tapes a bit of the return. -
RadioMaverick
526.9 #218 11:07AM
I will be there 💃💃💃💃💃 -
Sonja
5728.5 #3 4:52PM
#News
- Starting on June 14, the Big Thunder Ranch Jamboree in Frontierland will introduce "Woody's All-American Roundup". During this celebration, join Woody and Jessie, along with Mickey and his friends as they put on a patriotic celebration of the Old West. Also, Billy Hill and the Hillbillies will debut their new show "Red, White, and Bluegrass!" along with the dancing and guitarist
More...
My family and I will be there the 17. Might have to check it out -
babylynn
52.3 #3698 2:00AM
Thanks for the info! -
hardingk
3.0 #32582 7:04PM
Disneyland Grad Nite Info: We are compiling all the info you need for Grad Nite on one post, if you see anything missing let me know in the comments, thanks!
Dates May 10, 16, 17, 18, 22, 24, 29, 31 -- June 5, 6, 12, 14, 19, 20, 21
You can arrive at 9AM and stay until 3AM - Park Hopping is permitted
Private Grad Nite party in DCA with the Mad T More...
For the 24 hour event- all of DCA will be closed (with the exception of Hollywood Land,, Buena Vista Street, Paradise Pier and Condor Flats) from the hours of 11pm-3am. Only those with a wristband will be allowed to enter these lands. After 3am, these areas will open up again for all guests. -
BaseballMickey_CM
2830.1 #16 5:17PM
Not that this is any better but actually only Paradise Pier, Carsland and Tower of Terror will be closed :) so you can still go on Soarin over California and a few other attractions! :) -
VKaelin55
0.0 #98630 8:30PM
eww... we're there for two of them! Oh well, better than being at home! -
rdaann
273.9 #792 5:40PM
Its actually not that bad. I've worked many Grad Nites over the last few years and have never had a problem. With this format of them being in the park during the day and then after closing reduces the chance of any problems. I was even at the park last night as a guest and didn't feel any difference until we were leaving -
BaseballMickey_CM
2830.1 #16 5:43PM
I was in the park last night too and didn't notice any difference either. -
PrincessAuroraMomma
392.9 #340 6:03PM
Is it really, really crowded on these days? We'll be there with two small kids for two of these days. Any tips or areas to avoid? -
MsTink
3.1 #24700 10:05AM
So is disney not ushering people out of CA Adventure at closing time?......The way the description reads it looks like the public can stay in the park with the exemption of mad tea and WOC show. -
georgieporgie
116.1 #2795 5:08PM
#NEWS
#LIMITEDTIMEMAGIC
(from the AP Facebook): Hear stories about animation and learn how to draw some classic Disney characters with iconic Disney Animator Eric Goldberg on Friday, May 17 at the Animation Academy – all part of Limited Time Annual Passholder Magic! Event Times: 3:00 p.m., 4:00 p.m., 5:00 p.m. & 6:00 p.m. – Each event presentation will last approximately 45 minutes. Registr
More...
Dang, beat me to it! I was just checking to see if anyone had posted, sounds like fun! And does not conflict with MW reunion ride take over! -
sleepyhead
368.3 #375 1:52PM
Another event not for working folks. -
Winnie111286
288.8 #675 7:58PM
#News
- The "Jedi Training Academy" will not be shown this week (May 6-10) due to a refurbishment to the Tomorrowland Terrace Stage. (Darth Vader needs a vacation...)
But good news! Troubadour Tavern in Fantasyland will re-open on May 25, after being closed with the Fantasyland Theater, to coincide with the premiere of "Mickey and the Magical Map".
I wonder if they will have a revamped menu -
Dave
8637.2 #2 2:24PM
That would be nice! -
ShariRenee
1505.5 #51 10:36AM
I'm hoping for nachos and milkshakes -
ScubaSteve028
807.6 #114 11:00PM
I'm sure you are Bevis -
Dave
8637.2 #2 11:09PM
So I guess that means revenge of the sixth? -
Mel423
12.5 #6132 3:00PM
Never ate at Troubador Cafe. Will have to try it. -
Winnie111286
288.8 #675 1:10PM
Thanks for the update! -
karidaluv
33.1 #4242 1:55PM
#News
- "Indiana Jones and the Forbidden Eye" will be closed this Tuesday and Wednesday (May 7-8) for a short refurbishment.
Wasn't it JUST refurbished? -
cesium55
529.7 #216 6:47PM
That's what I thought! We went in November and it was down for a few months for referb, I think. -
Belleslibrary
228.0 #1270 7:33AM
Indy is always having problems, I think its just the nature of the ride -
lohofosho
274.2 #789 12:45PM
We got stuck on Indy yesterday, 18th. Had to switch cars when one side broke down. They still need to work on poor Indy. -
Winnie111286
288.8 #675 11:56AM
Space just opened from the dosh closure!!!!!
I'm in line now, if your in the park come now the line is short -
SplashMtn_Fan
487.2 #244 6:49PM
We were able to ride this friday and it was a great way to close out our week! BTW, it was nice meeting you and your family :) -
DisneyDawn
415.5 #310 5:59PM
#News- Starting Sunday, May 5, the "Glow with the Show" ear hats will now be incorporated for the "Magical" fireworks. Also, there will be special viewing areas on Main Street reserved for those wearing the ear hats on the dates of May 5, 10, 11, 12, 17, 18, and 19 (all viewing areas are at a first-come, first-serve basis).
This was great when they did this around Christmas. We were able to walk in about 15 mins before the show and had great viewing right by the water for Fantasmic. Should be equally good for the fireworks. -
DLKenCA
67.6 #3450 9:19PM
Hi Kevin. Is there still anywhere in the parks to get a free pair of ears with a minimum purchase. Hope to see you today. -
sr citizen space ranger
48.3 #3786 8:26AM
Magical returns tomorrow with Dumbo!!
I do love dumbo, but I'll miss what I refer to as, "the Julie Andrews' fireworks... -
evilqueensmistress
279.4 #731 2:00PM
Am I the only one wishing they would come up with new fireworks? -
TrampsLady
245.6 #1047 6:26AM
The Pixar Parade will feature a new Monster's U Float with a cheer leading squad, Squishy, Terry&Terri, Art, and Roz. The CDAs will also be returning. More details to follow.
When will this float be joining the parade? -
Winnie111286
288.8 #675 12:10PM
That's so cool, can't wait to see it! Thanks admin for the great insight! -
Red_Trolley_Sundae
6.0 #9114 9:34AM
Can't wait to see pics -
fab5
10.6 #6574 6:30AM
#News
- The Jungle Cruise will be closed from Monday 4/29 through Thursday 5/2 for a scheduled refurbishment. Also, the New Orleans Square/Frontierland Train Station will be closed from Monday 4/29 through Friday 5/24. During this time, the train will not stop at this station and will continue onto the ToonTown station.
Thanks for the info! Rats about the train. -
meridafan
1035.1 #83 7:09AM
I agree! Wr always take it from toontown to NOS... boo -
missariel33
104.7 #2978 11:38AM
Oh I'm so sad that New Oleans station will be closed when we are there :( it's tradition to grab beniets and hop on the train...guess we will have to get them and run to another station lol -
CuriousAsAlice7
28.6 #4437 11:49AM
Now that's a nice long stretch! -
snappy
272.6 #804 3:07PM
My favorite station :) -
Drew_Mouse
11.9 #6254 2:00AM
Live...Filming at Rancho del Zocalo in Frontierland...They are filming a Spanish language cooking segment with Disneyland Resort Chef Jorge Sotelo...This is being filmed for a morning show called "Despierta America" that is presented on the Univision television network. :-)
Every Latino has heard or knows of the show, Despierta America. Don't act like you don't know 😂 -
CaptainPirateKalven
288.1 #678 12:53PM
Never heard of it. I honestly don't know what channel Univision is on. -
NotNKansasAnymor
174.3 #1940 4:40PM
How cool! Thanks for the pic sir! -
Duchess_SMK
3269.2 #11 11:03AM
this just in!! it's now official!! Disney has just announced the 24 hours limited time magic party will be on May 24th, 2013 from 6am-6am as both parks will be open calling it 'monstrous summer all-nighter.. u'll be able to party the night away at both parks with special entertainment including: a "Monsters University" "TLT Monstrous" Dance Club and Star Wars characters in Tomorrowland a
More...
Please be super duper nice to all CM's as always! 😊🙏 -
iPoca.
905.6 #96 7:49PM
Think I'm still traumatized from leap day 😱 -
619HeatherMouse
221.6 #1337 9:07AM
This👆👉😯😧 I was getting trampled and pushed I had to walk in my friends footsteps cause he's 6'3" and no one was throwing their shoulder into him sooo I'm not gonna be at this one :( -
mickeyat
296.0 #633 5:00AM
im working this event at the village haus i work 9:45 pm to 6:15 am hope some MW come and visit me -
CM_Oregonducksfan
2637.7 #18 7:24AM
It is going to be insanely crowded, they are expecting high capacity because it won't just be Grad-Nite students, but also the media like the local radio and news stations as well. As for DCA, they are staying open all night like Disneyland. It is going to be a FANTASMIC event and I am super duper excited to work and play that fun Disney day. Last years event was superb, and I gather the 24th will be just as awesome. -
CM_Sarahdiamond
3.0 #32544 2:07AM